New York Style Eggless Cheesecake | Home-made Cream Cheese | Rich & Creamy | thedreamfoods
This is an easy to make New York style Eggless Cheesecake recipe for beginners with minimal ingredients, yet tasty.
Basic Eggless Cheesecake recipe at home
My creamy, fluffy, easy cheesecake recipe is perfectly sweet with a light and delicate texture, all wrapped in a crunchy Graham cracker and toasted pecan crust. Getting the perfect no crack bake is easier than you think and the end result is so beautiful it almost doesn't need any topping!
Full written recipe for Eggless New York style cheesecake
Prep time: 15-20 minutes
Cooking time: 1 hour
Serves: 1 kg cheese cake
Ingredients for Eggless Cheesecake :
Parle G Biscuit 140 gm (you can use crackers biscuit too)
Melted butter 80 gm
Cream cheese 300 gm
Powdered sugar ½ cup
Fresh cream 3/4th cup
Condensed milk 180 ml
Vanilla extract 1 tsp
Thick curd 1/4th cup
Zest of 1 lemon
Lemon juice of half lemon
Corn starch 1 tbsp
Any berry compote
HOW TO MAKE EGGLESS CHEESECAKE :
Start by first crushing the biscuit, you can use, food processor, a zip lock bag or else you can use a clean and fresh cloth to crush the biscuit, add melted butter and mix well.
Add melted butter with biscuit if using food processor or a zip lock bag.
Take a 8 inch spring form mould, and Also the just set the base tray upside down, lock the spring form mould, doing this step will help to demould the cheesecake effortlessly.
Transfer the butter and biscuit mixture in the spring form mould & press it with a pav bhaji masher or any flat bottom utensil, you can use a glass as well, to even the surface.
press nicely to make the base of the cheese cake. Bake the base in a preheated oven at 165 ℃ for 10-12 minutes.
After baking remove and allow to cool down, by the time you can make the cheese cake mixture.
For making the cheese cake mixture, add the cream cheese and powdered sugar in a mixing bowl, make sure to sift the powdered sugar to avoid any grains, use a electric beater or hand whisk to beat the mixture, cream the cream cheese until the mixture is creamy in texture.
Further add fresh cream, condensed milk, vanilla extract, thick curd, lemon zest, lemon juice & corn starch.
sift the cornstarch before adding, use a spatula to fold and mix well.
make sure not to over mix the mixture.
Pour the mixture over the baked base and tap to remove any air pockets.
For baking cheesecake, we need to use water bath baking method also known as bain-marie, for that, use a foil paper and butter paper and wrap around the cake mould nicely.
Further fill water in the baking tray and place the foil wrapped cheesecake in it.
Now, bake the cheesecake in a preheated oven at 165 ℃ for 45-50 minutes.
After baking the texture of the cheese cake will be a little wobbly, run a clean knife around the sides of the cake and cool down. Remove the butter paper & foil wrap.
Once cooled down, refrigerate in the fridge for 5-6 hours.
After chilling in the fridge, carefully open the lock of the spring form mould to demould, take a thin & wide spatula and remove the cake carefully.
lastly Your eggless New York cheese cake is ready, slice & serve as it is or just add berry compote of your choice to elevate its elegance.
CHEF'S TIPS
Use a springform pan. A springform pan works best for this cheesecake. However if you use a different dish, make sure it is at least 8 inches round and deep enough to fit the cheesecake.
Place the springform pan on a baking tray before baking in case of leaking. Not all springform pans leak, but many of them do (including mine)! So it's safest to place it on a baking tray before baking, so that any leaks are caught in the tray and you don't have to clean your oven.
Bake at low heat. We bake this at low heat – 300°F (150°C) – which is low enough so that there are no cracks and we don't need to use a water bath. The cheesecake also doesn't rise too much and then sink, it has a perfectly flat top. It should be lightly golden on top, not browned.
Let it set overnight for best results. It's ideal to make this the day before you actually need it. That way you don't have to rush any of the steps. It's most ideal to let it set overnight in the fridge before removing it from the springform pan.
Heat your knife to cut perfect clean slices. To cut perfectly neat, clean slices, heat your knife by placing it in hot water and then wiping it dry with a paper towel. Slice and then dip the knife in the hot water and dry it off again before the next slice. Repeat for every slice.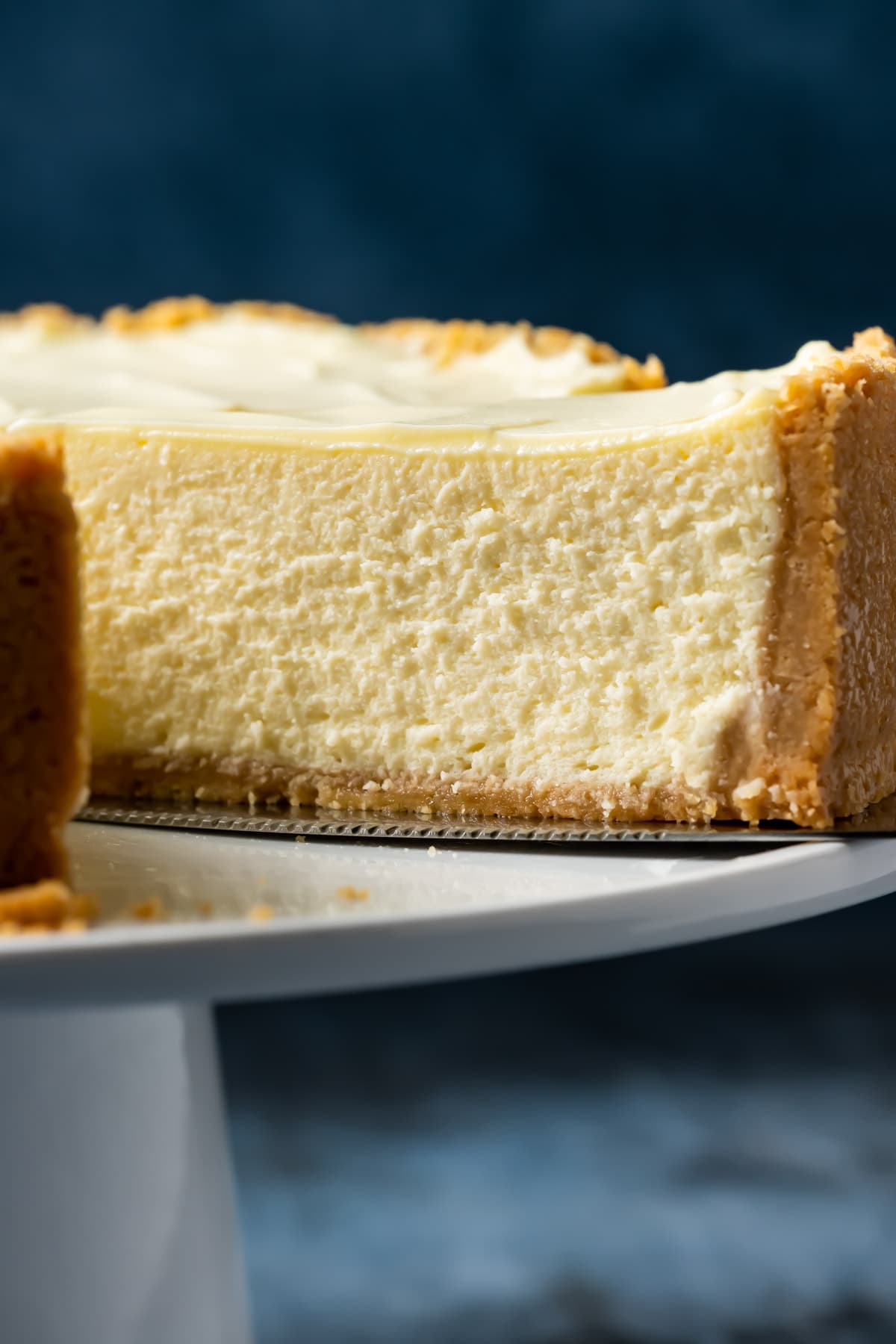 MAKE AHEAD, STORING AND FREEZING
Make Ahead: This is the perfect dessert to make ahead of time as it is best to make it the day before and let it set overnight.
Storing: Keep your cheesecake stored in the fridge (covered) and enjoy it within 5 days.
Freezing: This cheesecake is freezer friendly. Follow all the steps including letting it set overnight in the fridge. Then remove it from the springform pan and place it on a plate (or cardboard round), wrap in plastic wrap and then foil and freeze. It is freezer friendly for up to 3 months. Thaw overnight in the fridge.
I HOPE YOU WILL LOVE IT
TO VISIT MY LAST BLOG THAT IS DYNAMITE CHICKEN CLICK HERE
DO SHARE WITH YOUR LOVE AND ALSO SHARE YOUR VALUABLE COMMENTS.
FOLLOW FOR INSTAGRAM
@_THEDREAMFOODS_
THANK U FOR VISITING MY WEBSITE.